Monday, October 24th, 2011
I was at an event on Saturday when two kids said they planned to be clowns for Halloween and they asked to have their faces painted to look like a clown. My friend, who is a clown, was painting faces that day and she offered to make them into her own "Mini Me". When she was done, they looked great!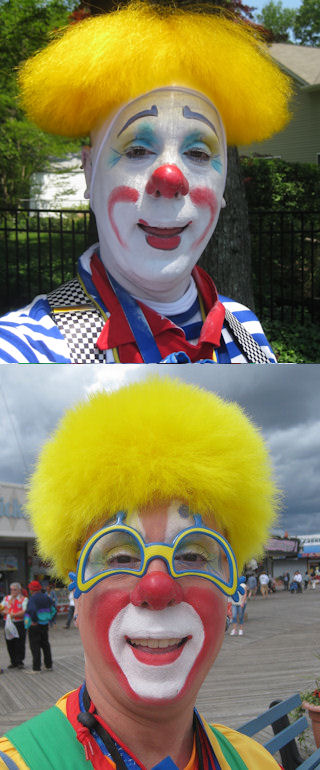 There is one face that I will always take extra time painting to make sure it really looks good, and that is a clown face. Being a clown, I want people to like what they see whenever they see a clown. But, I have seen other examples where friends who are not clowns have painted kids to look like a clown. Unfortunately, they demonstrate that they do not understand the key aspects of a good clown face.
The other week, I was at an event where another face painter was telling about her one and only time dressing as a clown for an event. I understand why she used face paints instead of clown makeup, but the description of her face, complete with hearts and swirls got me thinking. All face painters should learn about clown makeup. I have recommended to several new clowns that they get a copy of "Strutter's Complete Guide to Clown Makeup" which is available from Amazon.com.
I know when I was first designing my own clown face, the two points of reference were Ronald McDonald and Bozo. Both have very large red mouths. For most clowns, a much smaller mouth looks better. Actually, the best mouth is rarely larger than your own mouth. And, most clowns only paint their lower lip red. Otherwise, you get a big red, O, when the clown opens their mouth.
The clown makeup is designed to highlight the natural features of the face. In the circus, it helps people see the expressions they make from a distance. As such, the usual features are the eyes (and eyebrows), nose, and mouth. A clown doesn't usually have stars or hearts on their faces because those are not part of their natural features.